august 5, 2010
SOTE is ALIVE. Just to let you know some news... The Adventure Game Studio, whom we've joyfully used since 2004's Tech Demo, has been discarded. Our team coordination problems, the time-consuming job of our programmer and the actual difficulty of programming on a tool that requires advanced scripting skills, making it impossible to replace our code man, have pushed us to leave AGS and start using a more flexible, easier to use and more powerful program, not conceived for point'n click graphic adventures but for any type of multimedia application: ClickTeam's Multimedia Fusion 2.




It's powerful, it's totally customizable, easy to use (even a non-programmer can use it) and it's capable of any type of hardware acceleration effect (multiple layers, parallax, alpha blending, pixel shaders, etc.).
SOTE's new engine is now under development, but we're not starting from scratch, since all our stuff is gonna be reused in a new authoring context. Dusk is determined to complete the code implementation of our stopped chapter, Hunting the Hunter, on Adventure Game Studio, but its' clear that Multimedia Fusion 2 represents the future of SOTE which Boba Fonts will create going on withe the rest of the story.
That's the best way to make SOTE more beautiful visually and to accelerate its completion.




february 10, 2010
Due to a variety of problems (and opportunities too) of the Hexence crew, the Shadows of the Empire Graphic Adventure project must be considered in a SUSPENDED STATUS. Nothing of what has been done will be wasted, but we are not able to tell when the game will be finished. It's not our intention to discontinue its development, but in the present moment we're not in the position to make promises. You'll be informed when (and in what form) the project will be revitalized.




august 4, 2009
Hunting the Hunter - a Shadows of the Empire Adventure marks an important step in its development: we've just released to our testers a new beta featuring a long game portion. This time we have completed many rooms with complex game experience, exploration, dialogues, animated cutscenes. What does it mean? Well, for those of you wondering if SOTE:HtH was still alive it's a proof that the project is moving on very fast. We hope it'll meet your expectations, and in order to achieve that your help as betatesters is welcome!
You can read details about the beta release and the betatesting procedure on our forum, here (Italian only, sorry...).
For the social network aficionados, we're on Facebook too, here: it's another source for news about the latest beta.




may 11, 2009
Far from being discontinued, SOTE: Hunting the Hunter is near completion: the first part of the Project is about to reach you. Well, actually it will be given to testers first, for the usual tweaks. The feedback we received last fall about the Prologue was so encouraging and useful that we can't wait. This time, though, testers wont' simply get a couple of playable rooms and some cutscenes, but a whole short/medium lenght game of 20 rooms, that anyway is only a small part of what we're preparing for you adventure lovers.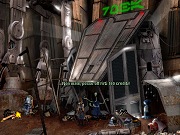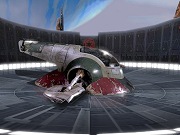 december 9, 2008
Dusk and Gnupick are back from GAMECON 2008, the most important Italian Videogames Convention (Naples, december 6-8). But they weren't mere spectators: they had a speech on dec 8 titled "Hexence: Star Wars Shadows of the Empire - the development of fangames", attended by many people. They officially presented - for the first time - our SOTE project to a vast public of videogame enthusiasts, adventure game aficionados and possibly Star Wars fans too. When the Prologue was played and a rolling demo of SOTE: Hunting the hunter was showed and commented the response was fantastic.
The audience's flattering standing ovation can only encourage our efforts to complete HtH in a short time. And the same response came from playtesters, who gave us important feedback to tweak the Prologue.
Stay tuned for more.




august 17, 2008
Have you wondered why we've not updated this site with fresh news in the last few weeks? (yes, the answer is an encouraging one!) Because we were very busy assembling "Hunting the hunter". The hot news is that... the Prologue, the hardest part of the game technically speaking, has been completed and is ready for testing!. By now it's in Italian only, so this call for testers is intended for Italian-speakers only, but rest assured that the English translation will come very soon. The rest of the game is being assembled as you read these lines.




june 12, 2008
One major obstacle (a time-consuming one) I, Boba Fonts, have had during the last four years has been removed: that means my SOTE-time will finally grow in quantity and quality. Almost everything that's required for the portion of the game we're gonna release is ready. Some minor touches are still needed but the main goal now is to complete the long process of assembling. The crucial phase will start in july, due to Dusk's other duties. Without our programmer we can't proceed rapidly for another month.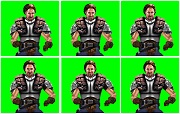 april 20, 2008
Developing a game is a more hard task than everyone not involved in such an enterprise would ever imagine (quite funny I've managed to quote Trek here!). Adventure Game Studio is a wonderful tool, no doubt, but the problems reside all in the real world around it. Everything seems to conspire against che birth of your dream. Every minute of your time seems to be reclaimed by something else.
But don't worry, the road to our goal is becoming shorter and shorter every day...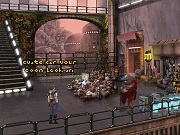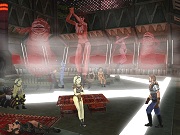 march 18, 2008
We've just assembled a crucial scene (a top secret one) at the beginning of the game, featuring - among others - a room filled with over 30 animated objects, something quite unusual in Adventure Game Studio. COUNTDOWN TO RELEASE...



february 25, 2008
The sprite for Dash Rendar has been recreated from scratch, or more precisely from an heavily modified 3D model. We believe it's way better than the previous one (published here long ago).




The development of Hunting the Hunter has entered its final stage: our crew, between real life distractions (yes, we do have a real life) has started assembling the elements of the adventure in the trusty Adventure Game Studio, which has reached in the meantime release 3.0.

Stay tuned: this time you won't have to wait for too long!


december 23, 2007
For these holidays we're pleased to release a couple of new shots from the finished game. We would have released more, but you can bet the long wait -due to a considerable amount of additions- will be repaid. We're working on the game of our dreams.




Before wishing you a Merry Christmas it's useful to remember our new Forum: you're invited to participate and join the beta testing group.
Seasons greatings to you all!


november 4, 2007
Hunting the hunter is the title for the first finished game "episode" we're trying to release as soon as possible. It chronicles the first events of SOTE: you can control Dash Rendar in his voyages to Ord Mantell and Gall on the trails of Boba Fett.


october 31, 2007
You are waiting for the playable demo we promised. Today's news is that no demo is going to be released. No demo. What we're putting together is a not-so-short game of about 4-5 hours of play time, that's an important section of the complete game.


october 30, 2007
The release of the first portion of Part I is approaching. A big surprise is featured in this preliminary section of the storyline. Just a little more patience... Meanwhile, here are some screenshots from an animated cutscene.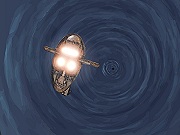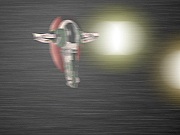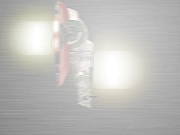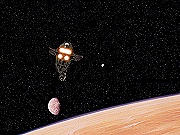 september 14, 2007
After a long delay caused by the summer holidays, we're back on track with our work: we're assembling the Part I playable Demo. Meanwhile, we invite you to visit our new FORUM, where you can discuss our graphic adventure and every topic connected with it.


july 22, 2007
A new screenshot for you! The DEMO goes on...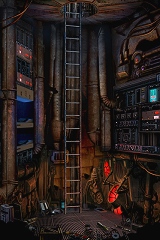 june 9, 2007
It's time to reveal our future projects. We plan to release *soon* (when? how many weeks? let's say *as soon as possible*) a Part I PLAYABLE DEMO. Nothing to do with the old Tech Demo, this time it's the real thing. It will feature Dash Rendar on Ord Mantell and Gall.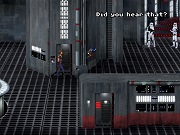 march 16, 2007
Just to let you know we're working hard for you... Here are some new models made by Lee Anderson with Animation:Master, ready to be converted into sprites by Boba Fonts.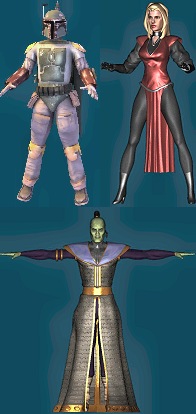 february 12, 2007
Jawas are lethal for the amateur animator, but with a bit of application...



UTINNI!


february 6, 2007
Back from another timegap, let's introduce you Emperor's Palpatine Throne Room in the Imperial Palace on Coruscant: the location is the set of many cutscenes in the SOTE storyline.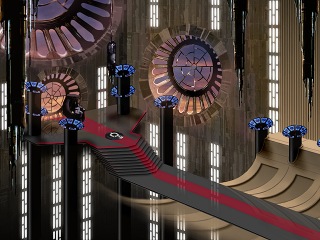 november 5, 2006
This is a view of Gall, moon of the gas giant Zhar, one of the main locations of Part I. It's the setting for a special mission of Dash Rendar, as you maybe remember in the official LucasArts action game of SOTE. Our version tells the story from a more adventure-ish point of view.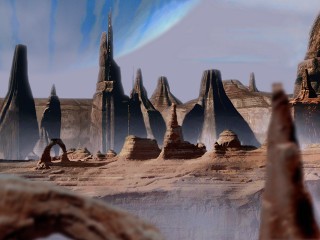 october 14, 2006
Here you can see some work-in-progress frames of the sprite of Leia dressed as Boushh, the ubese bounty hunter, as we see her at the beginning of Return of the Jedi and also in the second part of SOTE storyline. It's not something we need for Part I of the adventure but... hey, here it is anyway!




august 18, 2006
For a number of reasons summer has slowed down our work. Here's a little preview of a custom 'snow effect' we've created for planet Ilum, in Flash format (2 Mb).



may 30, 2006
Let's introduce planet Ilum, home to a Jedi Temple seen in the animated series Clone Wars, episodes 14 & 15, where it was detroyed.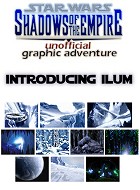 may 18, 2006
We're proceeding quite fast, though there's still a lot of work to do (especially for the sprites!). Planet Mon Calamari is taking shape: we've just added two more rooms.
The latest improvement is the possibility to move quickly on Tatooine from location to location using a special shortcut map. The

"landspeeder movement", needed to move to distant places on the planet, has been already fully implemented: and now we have two different sprites for the landspeeder carrying Luke + R2 or Leia + C-3PO + Chewbacca.


april 15, 2006
Guess what? Yes, now we're working on Dash Rendar's sprite, a quite hard one to create, because of his details. Dash is one of the four swappable playable characters you're going to use in SOTE:GA, and it will be featured from the beginning.

Click here to see a little preview of the work in progress.


april 3, 2006

We're working on Lando Calrissian's sprite, which will reflect the outfit the character has at the end of The Empire strikes back, but only in the first Chapter of our adventure: later in the story of SOTE Lando will look different, wearing a cloak.

Click here to see a little preview of the work in progress.


march 29, 2006
We're proud to announce that SOTE: Graphic Adventure Tech Demo has achieved the "Best Demo" AGS Award 2005.

Thanks to everyone who voted for us. Sorry for the recent lack of updates and our absence from the AGS Forum: we were very busy with our own real lives (yes, we DO have real lives), but SOTE:GA is still proceeding and we've been never so determined to finish our work as we are today. We're planning to release the first Chapter, Dark Voyage to Tatooine, this Fall.

Here you can read our game's profile on AGS's official website.


march 19, 2006
After a long break in web updates we're back, just to remember you that -though slowly- we're stil going on with our project: today we want to introduce Ord Mantell.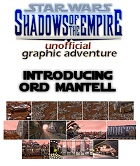 november 7, 2005

november 1, 2005
The Tech Demo of SOTE: Graphic Adventure has reached the 10.000 downloads quota, and obviously we're proud of that. We've received a very encouraging feedback from you. But the lack of supporting artists -able to design and animate old-style pixel-art sprites- is still slowing down the development process of Part I.
The backgrounds are virtually finished, the screenplay is almost complete too, but the project has slowed down due to the already mentioned need for sprite artists and the development of a new game engine that incorporates new features introduced in the latest releases of Adventure Game Studio.
Be patient: we're gonna come back soon with a few surprises...


June 17, 2005
Tech Demo 1.1 is finally online! It features as previously announced:
- the German translation, by Dennis "Hurrican" Pauler (thankyou very much!)
- the fixed Linux engine, that avoids a crash at the end of the game
For additional info please check the README before downloading.



april 3, 2005
We're proud to have been featured on TheInventory Issue 23, where you can find new screenshots, and also on Italian videogames magazines such as The Games Machine.
We've started working on the first Part of SOTE and we're testing the German translation of the Tech Demo. Moreover, Shawn Walker, mantainer of the Linux porting of the Adventure Game Studio engine, whom we publicly thank, has just fixed a vicious bug for Linux users which caused a game crash in the game ending.
We're gonna publish soon a final release of the Tech Demo with the bug-proof engine and the German translation. Stay tuned!



january 14, 2005
Second week, second thousand: 2000 downloads have just been surpassed.

Besides, a German translation of the Tech Demo has started and should be rapidly completed.



january 7, 2005
We've just reached 1000 downloads in less than a week. Thanks to everyone who downloaded and played our Tech Demo!



january 1, 2005
After a month of playtesting and tweaking, finally the Tech Demo of SW Shadows of the Empire: Graphic Adventure has been released!
You can download Tech Demo 1.0 here.
or find it on eMule / edonkey here.


december 6, 2004
Work on the SOTE Tech Demo is nearing the end. We're checking the last details of this short demonstration made to show you the features and the graphic interface of the upcoming adventure game.
It's a matter of days!


october 22, 2004

Luke Skywalker now goes hi-res! Yes, it has been a hard work, but now the graphic impact is far better. The same change will be undertaken with all the other characters (which are about 80).
Click here to see an animated gif of Luke walking in side view.



october 8, 2004
A key decision has been taken: sprites will be recreated at high-definition (average height: 216 pixels). AGS's antialias make them too blurry when a character walks on a zoomed walkable area.
That means an additional amount of work for Boba Fonts.


september 26, 2004

Work on the sprites —our major lack until now— has finally started, as Boba Fonts created a fully animated 8 direction sprite of R2-D2 (complete with soldering, computer interfacing and shocking animations). You can get a glimpse of it here.
Luke Skywalker's digital incarnation is almost finished too.


september 2, 2004
Death Star Games' homepage debuts with the SHADOWS OF THE EMPIRE: GRAPHIC ADVENTURE project. We're gonna post here frequent updates about the development of the game and the downloads as they'll become available.